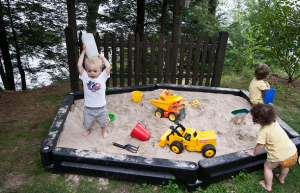 The other day, the New York Times business section ran an article on the presidential candidates' late night television appearances.  Apparently, several late night shows including: Jon Stewart's, The Daily Show; David Letterman; Saturday Night Live, and the Tonight Show with Jay Leno have been able to book President Obama, but not Mitt Romney.
It seems that Jay Leno from the Tonight Show, does extremely well with middle America, crucial for the Ohio vote, while The Daily Show with Jon Stewart has the best ratings in late night among 18 to 49 year-olds.
By taking advantage of these venues, it becomes clear that these segments are important to the Obama camp and that they are taking action to reach them. It also becomes clear that either the segment isn't critical to Romney or that his camp has chosen not to seek them out in their preferred venue.
When it comes to marketing, it's all about knowing where your target audience is, what their preferred venue is, and being there to deliver the message.  How many companies are devoting resources to Facebook when they really should be focusing more on LinkedIn because that's where their audience is most likely to seek out information?
A really interesting example came up with one of my clients in the craft industry.  She explained to me the importance of Ravelry, a social network for people interested in fiber arts.  This incredibly tight-knit community (no pun intended), played a phenomenal role in the launch of her knitting shop and has become their number one referrer.
Another example is Mountain Dew's sponsorship of action sports with their Dew Tour.  They opted for free admission in order to expand the event audience and provided a venue for direct exposure between action sports sponsors and their fans with stellar results.
The examples above really underscore the importance of knowing where your customers seek out information no matter what size business you run. It may not be all that obvious, but if you aren't where your customers or prospects seek out information – it's going to be difficult to reach them.  You have to play in their sandbox.  After all, inbound marketing is all about being found, and it's a lot easier to get found when you're operating in the same arena.
The best way to find out where your customers and potential customers look for information is to ask them.  If you have a media or advertising agency, of course they can help you with this task, but if you're a smaller player, survey your customers.  If you have a sales force, make sure this is one of the items on their list of questions to ask.  If you have employees that come into direct contact with customers, be sure that they are asking how that customer found you and what websites, magazines, or other resources they use to seek out information.  Also, find out where they seek out entertainment, radio stations they listen to, television shows they watch, places they frequent, and events they attend.    Then take the next step to ensure that you are in the places that  matter.